Leaks are monsters that come out of conqueror of all worlds. They can only be defeated by a weapon from the game.
These are the leaks shown so far and which episode they were leaked.
As of "A Leak Among Us" it is now known that leaks can not jump diagonaly because Max Ross hates checkers.
Ig-in game
Irl-in real life
M-mentioned
LEAK-EPISODE (If in game, it might state the lvl and locarion first seen)-Description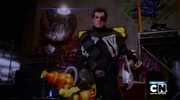 The MMORPG Monsters
Edit
Titans (Maldarkalipse)Edit
Ghouls (CRYPTS)Edit
Thadeous(BOSS)
Gooblin - Ig (Lvl 8) [Crypts' fourth floor]- Green Goblins with Acid
Goblin Archer - Ig (Lvl 2) [Crypts' first floor] - Goblins with a bow and arrows
Goblin - Ig (Lvl 4) [Crypts' first floor] - An evil elf
Goblin Undead - Ig (Lvl 15) [Crypts' seventh floor] - Purple zombie-like goblins with a skull and horns on their head; they wield a sneaker attached to a stick
Other monsters
Edit
Internet leaks
Edit