HQ is Neverfail's home base. They discuss leaks and store loot and weapons here. They once threw a party here that went very wrong. It is covered it graffiti. It is a warehouse called the Beta House (this is where Max stores his beta inventions that are in the beta form; Double Beta!!!).This was first shown in the episode "Headquarters" but shown in "Barbarian."
Contents
Edit
Dinosaur With Jersey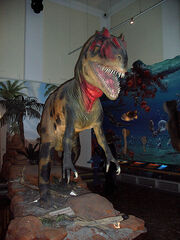 Small Dinosaur with Jersey
Toy Biplane
Squishy Sponges
Golden Head Statue
Video game devices
Giant Globe
Circle Engine (looks like a time machine)
Ladder
Frosted Foolsball table
Foolsball Table
Video Game Booth
Lights
Sink
Half pipe (Skateboard Ramp)
Chalk board
Laptop
Computer
Dart pad
Safe
Green Plane
Shark Head
Doll (in mouth of shark head)
Rainbow rider's boots
Weapons
Flat Screen TV
Hover Bike
Conqueror of All Worlds 3D board game
Double Dash Dan
Frostor 550
Liquid Crystal TV
Lollipop Belt
Liquid Crystal TV Remote
Steel Holders
Silver Trophy
Talking Crow
Computer with Desk
Contents of Booty Box
Conqueror of All Worlds Decorated Door
Tables
Chairs
Boxes and crates
Basket Ball Hoop
Treadmill
Couches
The Graffiti Art
Edit
Dante-The name Dante on a yellow door
Beta House-The words Beta House on a wall
An Elf-A painting of an elf on a wall
Waves-Picture of waves
Ad blocker interference detected!
Wikia is a free-to-use site that makes money from advertising. We have a modified experience for viewers using ad blockers

Wikia is not accessible if you've made further modifications. Remove the custom ad blocker rule(s) and the page will load as expected.